updated on May 2, 2011
What is yoshinoCALC?
yoshinoCALC is a free scientific calculator software like PowerToy Calc from Microsoft. I used to use PowerToy Calc to do a simple math on Windows XP. But the software cannot be installed on Windows Vista. I found it works even on Vista when I copy PowerClc.exe in \Windows\System32 of an XP PC to a Vista PC. But what can I do if I do not have XP or if it won't work in a future version of Windows? So I decided to make a scientific calculator like PowerToy Calc by myself.




Actually to make the software was not so difficult since I have already constructed an algorithm to evaluate mathematical expressions for my another freeware yoshinoGRAPH. After making a dll EvaluateExpression.dll using the algorithm, I utilized it to make yoshinoCALC. You will find the dll in the folder where yoshinoCALC is installed. Please use the dll freely if you like to implement the function in your non-commercial applications.

I have also made another scientific calculator software with a conventional appearance with many buttons for WindowsCE. So I implemented a similar function to yoshinoGRAPH as "Conventional View". You can switch the "Histry" and "Conventional" views without terminating the software.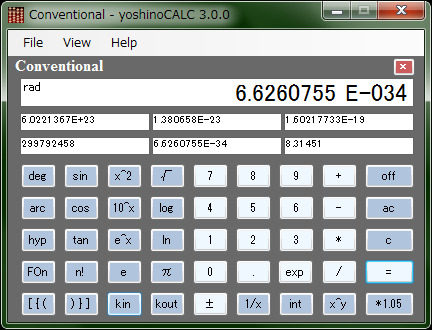 I also implemented the third function "Column View" to version 2.0.0. This is convenient when you calculate summation of numbers. The reason why I did it is that I do not want to start Excel just to calculate a simple summation of numbers.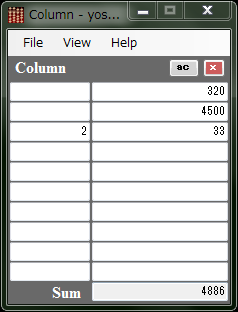 Although yoshinoCALC is similar to PowerToy Calc, the former is not the copy of the latter. I have implemented functions just I need into yoshinoCALC. Please find whether the software will help you or not by reading its manual.

By the way, do you know what the yoshinoCALC icon is? It is a part of an image of a soroban (abacus), which is a traditional tool for calculation in Japan. I was born in 1968. Many of us used to go to soroban schools in our low-teen age. The icon has a nostalgic meaning to me.